History
All started by chance in 1990 when I was still attending Veterinary Medicine at Naples University. Dogs had been my great passion for many years, especially molossers, and so I decided to visit the Naples International Dog Exposition with some friends. While walking along the rings and the various stands at the beautiful "Mostra d'Oltremare", I was impressed by two very big dogs that had a noble and, at the same time, sweet expression. Telling the truth, I didn't know the breed and so I asked about it. It was one of the first couples of Pyrenean mastiffs brought to Italy by Mr. Carmine Massimo who was also one of the first breeders in Italy and a great expert.
The names of the two dogs were Zingara de la Tajadera del Tio Roy and Morgan de la Tajadera del Tio Roy. They came from the Spanish kennel of Raphael Malo Alcrudo, who has voted his life to this beautiful breed, nearly disappeared, and was the president of the Spanish club founded in 1977.
I had never thought I would have become a Pyrenean Mastiff breeder when, one day in 1996, while I was at work, I got a telephone call by Carmine Massimo who told me he was forced to give up the breeding for personal reasons and had thought about giving his dogs to me, because of our great friendship and the common passion for dogs. I was still a student at that time and I didn't have much money but, thanks to my marvelous mother and her help, I was able to fit the place where to host my first Pyrenean Mastiffs. (3)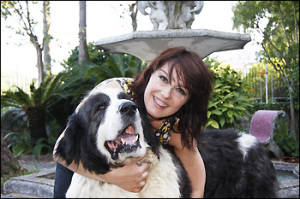 My first mastiffs were Zingara, called Cachorra, and her two puppies, Ella and Eros.
With them I started attending competitions, both in Italy and abroad, getting excellent results, such as "Italian", "European", "International" and "World Champion" in 2000 in Milan.  Then arrived Carin (Dana) that gave birth to 5 Italian Champions and, among these, two young World champions.
In 2002 I went through a very difficult period and I had to part from my dogs, this event made that period darker and sadder. Luckily I decided to give my dogs to Murtoi's kennel (one of the first recognized kennels in Italy) belonging to my friend Milena Mura. I knew that with Milena my dogs would had been ok and she had shown her best attitude to help me. I still remember my sorrow when I gave Milena and her husband Livio my dogs, after they had entered their car I nearly run away in tears.
I was sure I wouldn't have ever start again with the kennel although my friends Milena and Livio tried to involve me and were very kind and affective.
Actually, when the tragic period went off I missed my dogs more and more but I was afraid of starting up again… of making mistakes… and so I stayed apart from them and from all the breeder's environment. And… luckily, one day I met a splendid man, now my husband, who was able to read in my heart as well as in my eyes and to give me back my self-confidence and… not only!!! He was the one to decide it was time to set things in order to get my dogs back home.
Milena had always told me that I could take them back at any time I would have to without any problems, showing in that way great friendship and affection. But it was my husband's love and support which enabled me to face my fears and to start again.
I will never stop thanking him for all he has given to me, especially for the support and the possibility to go on and live great emotions with my mastiffs. The kennel, that I love to call ALTOARAGON, the same name of my first Spanish male dog (originating at De La Tjadera Del Tio Roy but actually coming from Murtoi's kennel) and mount Altoaragon, is waiting for Enci recognition and the possibility of sharing emotions and exchange experiences with the lovers of this breed, still not well known and spread in Italy.
Paola Longo